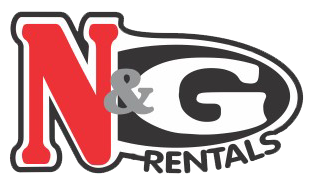 Affordable Copier Rental Solutions
Rent for 11 months and get the
Designed to meet your needs simply and efficiently. The e-STUDIO223 offers an out of the box, plug and play solution, delivering 22 pages per minute respectively.
This low cost efficient system can be enhanced further with the addition of another 250 sheet cassette making this a cost efficient scalable solution for the more demanding user. With copy, local printing from a Windows PC and document scanning of up to 600 dpi the quality and functionality is far from standard.
Reliability If you are sharing your office space with an MFP you want it to be quietly efficient, which is what you can expect from the e-STUDIO223. Proven Toshiba technology ensures the reliability of your MFP and the simple to use and easy to understand control panel makes it perfect for the low volume B&W user.
All-in-one monochrome A3 document manager
Exceptional interface design for intuitive use
Enhanced technology for reliable quality
Internal toner recycling system for maximum eco-friendliness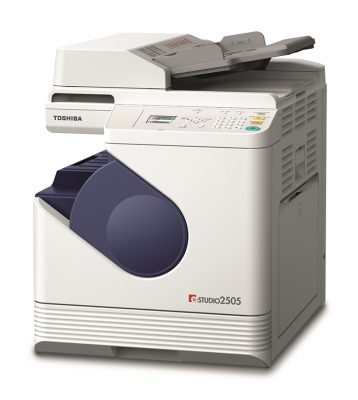 If the Toshiba e-STUDIO2505H/2505F were simply a letter-sized MFP, you'd be impressed. But we didn't stop there. We kept going until 11" x 17" output could be printed using the bypass. What more could you ask for from such a small footprint and price?
Don't be fooled by the small footprint. In addition to offering ledger printing via the bypass, the e-STUDIO2505H/2505F has a 300-sheet capacity when you combine the bypass with the 250-sheet cassette. Also using the bypass, you can print professional looking envelopes to your exact specifications. There is also an ID card copying feature, and automatic duplexing comes standard. Warm-up time is an impressive 20 seconds, with the first copy out in just 7.1 seconds. Whatever you want from an affordable, letter-sized MFP, the e-STUDIO2505H/2505F has it, and more.
25 PPM
Black & White MFP
Small Workgroup
Copy, Print, Scan, Fax
Digital MFP
Ledger Support Via Bypass
Network Connectivity
Starting with a warm-up time of 20 seconds, a first copy time of 3.7 seconds, and output at 20 to 30 pages
per minute, you can rest assured this series will keep up with demand. Reduce or enlarge originals if you'd like,
from 25% to 400%. You'll be impressed by the unparalleled image quality of each printed page, at 2400 x 600 dpi. In addition to quality, you'll also appreciate quantity. The standard paper capacity is 1,100 sheets, and if your workload demands it, you can opt for up to 3,200 sheets. Also, take advantage of the e-STUDIO 256 new finisher options, including an inner finisher with hole-punch, contributing to an overall smaller footprint.
Up to 30 PPM
Black & White MFP
Small/Med. Workgroup
Copy, Print, Scan, Fax
Secure MFP
Eco Friendly
3,200-Sheet Capacity
USB Direct Scan & Print
Large 9" Touch Screen
Add Paper "On the Fly"
Compact Footprint
Colour Scanning
The e-STUDIO2550c series balances functions and price so that it's adaptable to a variety of budgets and needs. A standard model can become a robust, full-featured colour
MFP, or anything in between. The series includes models that offer 20 and 25 colour pages per minute at up to 600 x 1200 dpi. With the latest generation e-BRIDGE platform,
it's easy to connect and manage using a large 9" control panel. It is compact, lightweight and quiet, making it ideal even in tight spaces. If you're looking for more than copy, print, and scan, you can opt for a fax feature as well as a document feeder and duplexing, Secure HDD, finishing, open platform and various solutions connectors.
Up to 25 PPM
Colour MFP
Small/Med. Workgroup
Copy, Print, Scan, Fax
Secure MFP
Eco Friendly
Easy Replaceable Units
Easy Manageability
Network Print/Scan
Remote Management
Gigabit Connectivity
Template Feature Keys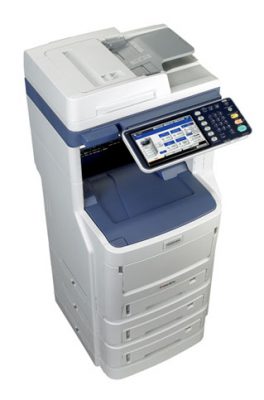 Affordable, high-impact colour.
You need black and white, but you'd like to add color. Now they're both available in a compact size at a sensible price, thanks to the new e-STUDIO347cs series from Toshiba. Copy, print, scan and fax with the MFP that does it all, for less.
Colour Multifunction Printer
Up to 42 PPM
Small/Medium Workgroup
Copy, Print, Scan, Fax
Secure MFP
do you need help with your printing requirements?
Contact Us for a Free Quote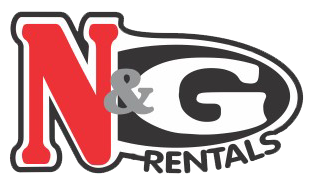 Affordable Copier Rental Solutions
We do direct sales, leases, monthly rentals or options where you can rent and take ownership.
Our promise is to find the best solution for your company by analysing your printing requirements and making informed decisions, maximising your production and minimising your cost. Whether you print 200 copies or 200 000 copies per month we have a solution for your company.